---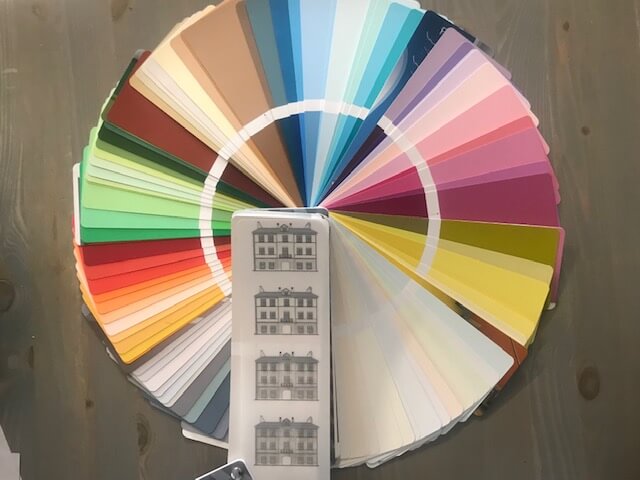 In this article we will present you a special and innovative series of colors, the Green Vocation Line, suitable for interiors. The products that make it up are characterized by a low content of volatile organic compounds, are odorless during and after their application and do not contain solvents. Depending on the requirement of your space, you can choose the appropriate material of the series for sanitary areas, dining areas, hospitality and recovery (eg kitchens, hospitals, hotels, schools). They offer excellent coverage, low environmental footprint and are highly resistant to continuous use, scratches, and frequent cleaning.
More specifically, the products of the series are:
MIKROS 001 is a transparent water-soluble primer with low VOC emissions. Used in interior and exterior masonry. Due to its high penetration, it improves the application of the next products that will follow.
It is a water-soluble enamel paint, suitable for indoor use, odorless, with extremely low VOC emissions (volatile organic compounds), resistant to abrasion and cleaning, suitable for areas of health interest. EVOC 001 offers a matte effect and a satin finish.
EOS 001 is a water-based paint that offers very high breathability and has a very low content of volatile organic compounds. It is odorless, both during and after application. The product ensures very good homogeneity on the applied surface, with excellent surface coverage.
OCEAN 001 is a water-based paint for interiors with low environmental impact, easy to apply and offers a matte and silky effect. Due to its properties it is easy to clean.
SPHAERA 001 is a decorative water-based paint with hollow ceramic microspheres, which like its predecessors does not contain solvents and has a very low content of volatile organic compounds. The properties of this product contribute to slowing down the spread of mold on the walls, improving the quality of wet areas such as kitchens, bathrooms, warehouses, etc.
All the above products are available in many modern color shades.
Depending on the interior space in which they are applied and its requirements, a corresponding series of products is proposed.
SUGGESTION A'
It concerns environments such as kitchens, hotels, places where food is processed but also favors the existence of many people. In the first phase, the primer MIKROS 001 is applied, then the product with paste texture FAST 299 is applied and the cycle is completed with the watercolor EVOC 001.
SUGGESTION B'
Circle suitable for areas where they are likely to show signs of mold. First, as in the first cycle, first apply the primer MIKROS 001 and then the paint SPHAERA 001, a product that slows down the spread of mold on the walls.
SUGGESTION C'
It concerns places where there is a large concentration of people (eg hotels). For a start, apply the primer MIKROS 001 and as a final finish the watercolor OCEAN 001, which is easy to wash and has a low content of volatile organic compounds.
SUGGESTION D'
Circle suitable for interior sanitation, such as bedrooms, common areas of the house, etc. First MIKROS 001 is applied and then the painting EOS 001.
It is also important to mention that the products should be selected based on the substrate to which they are applied. Any damage to the masonry, such as cracks, must first be smoothed out before applying the products.
Contact us for more information.
The products of the Green Vocation Line series, produced by Fassa Bortolo, are imported and distributed in Greece by our company, Dalkafouki Oikos Ltd.