---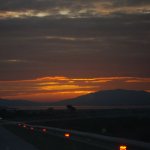 October 2011. Tuesday morning. Very morning!
Even without light, I still started my favorite time of day to travel.
At a time when the city is awakened, and a slow accelerating pulse is spread on it like a living rug.
Destination: Drama.
Somewhere near Volvi the first daylight welcomes me and I capture it in a photo.
Meeting at 8.30 with the rehabilitation implementation team. On site, at the Spierer flagship tobacco warehouse built in 1924 by Austrian architect Konrand von Vilas for the Swiss tobacco manufacturer Hermann Spierer.
The huge volume of the 7.500m2 tobacco warehouse dominates the most beautiful part of the city, in front of the lake of St. Barbara. A stone building with all those features that make it into the category of Preserved Industrial Monuments of the Middle Ages, at a time when the tobacco trade was booming in the region.
The building site has been erected and the building stripped of its shattered status and ready to revive it again.
The first meeting with the man who on a random trip to Drama saw the building and envisioned its revival. Manolis Ledakis is a bold businessman with a perfectly structured mind, who from the first moment made it clear that he wanted partnerships that would ensure that the work would follow all the rules of proper rehabilitation.
Our cooperation, which began that day, in a climate of mutual trust and understanding, led to many more trips to Drama during the work, which gave me the opportunity to follow step by step the implementation of the difficult task.
Today the hotel "Hydrama", named after the ancient name of Drama, with respect to its history, with a special emphasis on wood and stone, gives new life to the area and tourism of the city, justifying its visionary and the hard-working people, who worked for it.
It is one of these places that every time I leave after another enjoyable stay, I think about how soon I will be able to return, again.