---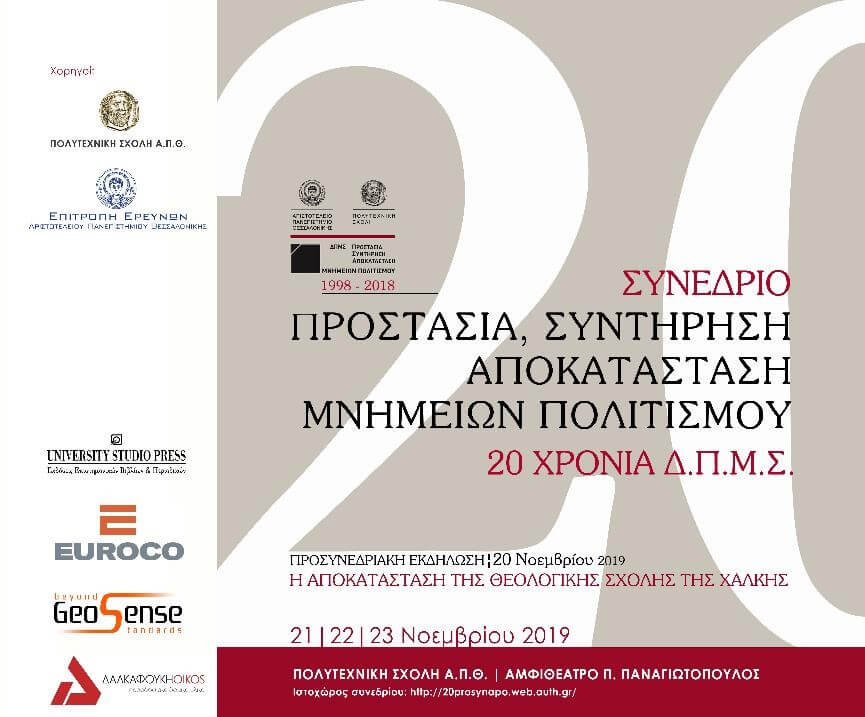 As the 20th Anniversary of the Interdisciplinary Postgraduate Program of the Aristotle University of Thessaloniki's Graduate Program "Protection, Conservation, Restoration of Cultural Monuments" approaches, in the context of various Anniversary Events, a scientific conference entitled "Protection – Conservation and Restoration of Monuments of Culture – 20 years I.P.C." will be held. The purpose of the conference is to present, through its qualified speakers, the interdisciplinary dimension of the program as well as its contribution to the preservation and promotion of our cultural heritage.
As stated on the conference's website www.20prosynapo.web.auth.gr, further objectives of the conference are to promote the project for the protection, conservation and restoration of monuments, the analysis of social, political, economic and technological parameters related to the monuments. In addition, proposals for intervention to ensure the protection and enhancement of the monuments and their surroundings will be presented as part of the conference. Attendees will also have the opportunity to attend the presentation of new interdisciplinary tools and methods in the analysis, mapping, documentation, planning and implementation of restoration projects.
Our company, Dalkafouki Oikos, is once again pleased to be present as a sponsor at this conference. Through this sponsorship, we are also contributing to the purpose of the conference and hope that this conference is a pole of different scientific departments from different parts of Greece, in order to bring findings and discussions on issues that concern our cultural heritage to more and more people and areas.
The conference will feature speakers from all over Greece who are involved in the conservation, protection and restoration of cultural monuments. Also, a special part of this conference is the participation of the alumni of the program, who through their knowledge and the experience have contributed to the protection and promotion of the country's cultural heritage.
In conclusion, the scientific conference will be held on November 20-23, at the Aristotle University of Thessaloniki, specifically at the P. Panagiotopoulos Amphitheater. The topics of the conference are:
Interdisciplinary training and specialization in monument restoration
Social, ideological and political considerations in the management of monuments
Issues for the protection and restoration of the monuments of modern architectural heritage
Documentation and recording of monuments and monuments
Historical Sites and Places- Surroundings of Monuments
For more information about attending the conference you can visit the official website: www.20prosynapo.web.auth.gr.