---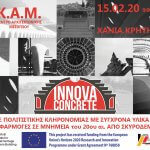 On Saturday, February 15, 2020, a workshop titled "Protecting Cultural Heritage with Modern Materials and Methods, Applications to 20th Century Monuments", is organized by the Cultural Heritage Materials and Contemporary Architecture Laboratory of the School of Architecture. The workshop will take place at the Mediterranean Architecture Center, Chania Crete, starting at 09:00 in the morning.
The presentations will focus on issues related to the preservation and promotion of our cultural heritage, and it is of particular interest that innovative nano-technology materials as well as modern methods of construction control will be presented.
Our company, Dalkafouki Oikos Ltd, supports the event as a sponsor. In addition, Ms. Dalkafoukis Maria will be in Chania to attend the interesting conference.
The event is organized under the Horizon 2020 InnovaConCrete program (see here: www.innovaconcrete.eu), by Professor of the University of Crete and Director of the Laboratory of Cultural Heritage and Contemporary Building Materials, Ms. Noni Maravelaki. Admission is free to the public and you can register at the link below: https://machmob.tuc.gr/workshop/
(Information from: https://bit.ly/3aljHLh )
Are you interested to discover more?
Get in touch with us